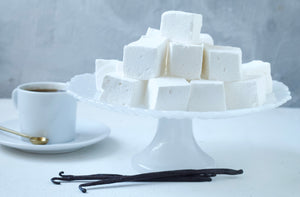 Vanilla Bean Marshmallows 16 -35 PCS
SWEETNIKS
Regular price $20.00 Sale
Vanilla bean marshmallows are a wonderful addition to your hot chocolate.  
These fragrant fluffy marshmallows are made with fresh vanilla bean paste.They are cut into 1 1/4" inch squares and rolled in vanilla infused confectioners sugar. You will receive 16 marshmallows packaged in a cellophane bag ready to be given as a gift or you can purchase a full batch which yields up to 35 pieces
orders are sent USPS priority mail which takes 2 to 3 business days.

GLUTEN FREE

Ingredients: filtered water, cane sugar, , non gmo corn syrup, gelatine,  vanilla bean paste, bourbon vanilla essence, egg white, corn flour

Shelf Life: Store airtight in a cool area up to 4 weeks.