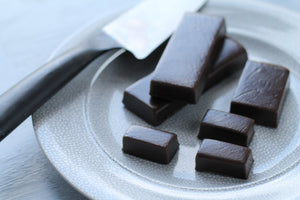 Licorice Caramels 1-2 Pounds
SWEETNIKS
Regular price $28.00 Sale
These buttery creamy caramels are made using condensed milk butter sugar and a splash of anise.
You can select either 1 pound which is approximately (approx 40-44 pieces) or 2 pounds (approx 75-80 pieces)
Each piece is individually wrapped in cellophane and placed in a in a cello bag with a ribbon and a label ready to be given as a gift.

If caramels are needed for a specific date please send an email to info@sweetniks.com with your details.
GLUTEN FREE
Ingredients:  filtered water, cane sugar, corn syrup, condensed milk, anise oil salt, food coloring
Shelf Life:  Store airtight in a cool area or refrigerator.  Best consumed within 2 weeks.