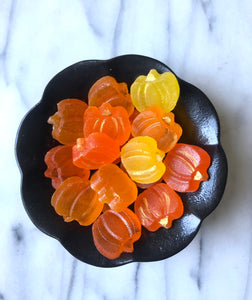 Kohakutou - Pumpkins - Japanese Candy - Halloween
SWEETNIKS
Regular price $28.00 Sale
Kohakutou Candy is a traditional vegan Japanese confectionery technique dating back 400 years made from Agar agar and sugar.
The texture is crunchy on the outside due to the high sugar content and jello like on the inside.

🖤SIZE
You will receive a 6 oz packages of 12 ombre' pumpkins in shades of yellow and orange with highlights of edible metallic gold.
Kohakutou are be packaged in a rice paper ziplock bag ready to be given as a gift.

🖤SHELF LIFE-STORAGE
Store airtight in a cool area up to 8 weeks.

🖤 PROCESSING TIME:
Your product will ship within 7 to 10 days after purchase.
Please let us know the date needed for your event so that your order arrives fresh.

🖤 SHIPPING TIME:
3 to 5 business days within the US via USPS Priority mail.