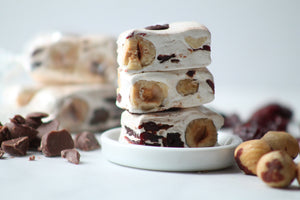 Toasted Hazelnut Dark Chocolate Cherry Nougat 1 LB - 1 1/2LBS
SWEETNIKS
Regular price $30.00 Sale
A combination of Toasted hazelnuts dark chocolate , sour cherries and fresh vanilla bean are the ingredients that makes this nougat  delicious.  Perfectly paired with a dessert wine or a cup of coffee.
You can purchase either 1 pound which is approximately 30-40 pieces or a full batch which is approximately 50-60 pieces and roughly 1 1/2 pounds
Nougat is cut up into bite size pieces and individually wrapped in cellophane and packaged in a bag ready to be given as a gift.
Orders are shipped USPS Priority mail which takes from 2 to 4 business days.
GLUTEN FREE
Ingredients:  filtered water, cane sugar, non gmo corn syrup, corn starch , egg whites ,hazelnuts, dark chocolate, dehydrated cherries
Shelf Life:  Store airtight in a cool area.  Nougat can be refrigerated or frozen, otherwise best consumed within 2 weeks