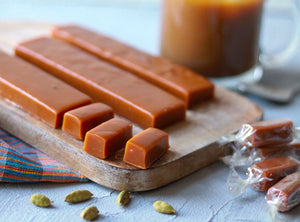 Thai Coffee Caramel - Gifts for Foodies - Gourmet Hostess Gift - Caramel Lover Gift - Teacher Gift - Exotic Sweet Treat - 1-2 LB
SWEETNIKS
Regular price $28.00 Sale
Thai Iced Coffee is a delicious refreshing drink that is sold on the beaches and streets of Thailand. It transforms perfectly into a caramel.
The taste of these Thai Coffee caramels are robust and buttery with of hint of coffee and end with a fragrant cardamom overtone.
Each piece is individually wrapped in cellophane and placed in a in a cello bag with a ribbon and a label ready to be given as a gift.
All orders are shipped USPS Priority which takes between 2 to 4 days
GLUTEN FREEIngredients: filtered water, cane sugar, corn syrup, condensed milk, cardamom, coffee essence, espressoShelf Life: Store airtight in a cool area or refrigerator. Best consumed within 2 weeks.